Testimonials
Affirmations from those who have utilized Rudison's for their business needs…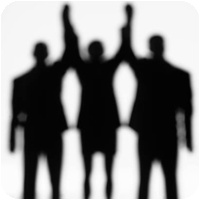 Joe Williams, Driven Film Developers
Mr. Joe W. Williams, VP of Sales and Operations at 701 Productions attended an earlier workshop.  He states that "the workshop gave him the courage to go on and fulfill his vision."
Connie Mulqueen, Freelance Writer
"I wanted to thank you for being such a wonderful help to me last Wednesday.  I really got a lot out of your seminar.  When I met you months ago at the Gwinnett Chamber, I did not realize what a sweet and gracious person you are with a genuine desire to help others.  I certainly learned a lot from your seminar to get me started and look forward to working with you more down the road.  I look forward to another seminar in your home in the future!  By the way, I took your advice and redid my brochure.  I'll let you know how it goes! I'll send you one, too."
Judy Merrell, Jude's Designs, Faux/Decorating
"Rudison's Enterprises, Inc. offers by far THE BEST Business course available.  It is informative, thorough, practical and offers all the steps available to starting a successful business.  I would highly recommend anyone that plans to start a business, take this class first.  It could prevent you from making costly mistakes.  It did for me, and I'm so grateful because I saved a lot more money by avoiding these mistakes. . . than there's the small cost of the class."
Arba Tucker, Hopewell Entrepreneurs, Ministry Leader
"After attending a luncheon and hearing Jaunta speak, I was immediately drawn to her spirit and intellect.  I attended her workshop and was very impressed by the format.  There was time for a lot of interaction instead of one-way instruction.  We worked through the case studies as a class which allowed us to get to know each other better.  There was plenty of time to ask questions relevant to our own businesses as well.  As the leader of an Entrepreneurs Ministry, I recommend and support all of Rudison's Enterprise workshops because I know Jaunta is passionate about what she's doing.  May God continue to bless her valuable work."
Susan Grimm, VP of AtlantaEvent.com, a subsidiary of Mostcool Media, Inc.
Susan attended an earlier workshop and states, "Rudison's Seminar is packed with practical information.  It's a great opportunity to learn directly from the business professionals who represent each section of your business plan.  I walked away with a mission statement for my company and I feel much more confident now about putting together a comprehensive business plan."
Gary C Dailey, Daystar Technologies, Inc.
"I have been in business for three years and had reached the point where I needed additional funding for the next stage of growth.  I had approached a bank for financing and was turned down.  However, Jaunta of Rudison's Enterprises, Inc. was able to help me fine tune my plan of attack, secure the financing I needed and she also put me in touch with an additional funding source to prepare me for future investment and growth expansion.  It's great having someone work with you who understands the system.  It eliminates unnecessary frustrations and shows you how to properly prepare for unilateral growth."
Michael Eilermann, Atlanta Christians in Business Network
"Dear Jaunta, Thank you very much for your workshop on writing and creating business plans.  Your full-day seminar was very informative, your guest speakers were straight to the point and all the handouts which we received were very complete.  Your seminar has helped me so much in getting to the point of the Atlanta Christians in Business Network and helped me define many of the critical areas which needed to be addressed but was really unclear just which direction to go.  Providing the format was very helpful.
In addition just being with other people who are facing the same problems, the discussions, the questions and answers to things that I may have thought of, but not when I was with someone who could provide the answers has really made this process much easier.  You have great enthusiasm, knowledge and dedication.  You successfully made what could be a boring but necessary topic a fun and informative day.  Again, thank you very much."
Contact us today to get your business on track.