Rudison's Enterprises specializes in helping business owners write well developed business plans focusing on fundamentals that are necessary for growth and success.  We take the business owner through a step-by-step process based on proven methodology resulting in an outstanding end product.
The key to starting and developing a successful business is to have a well-documented business plan. NOTHING IS MORE IMPORTANT!
Our "Practical Sense Business Planning" instruction manual equips business owners with information for generating and writing powerful business plans, grants, and proposals. Instructions for handling milestones, business growth, SWOT (strengths, weaknesses, opportunities and threats) analysis and successful marketing strategies are included.  Information for start-up businesses and ongoing enterprises is also included.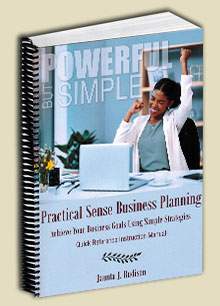 Practical Sense Business Planning
By Jaunta J. Rudison
Price $59.95
(Plus $10.00 Shipping & Handling)