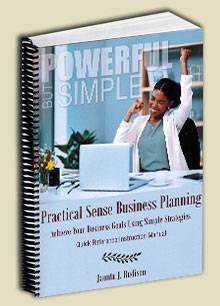 Practical Sense Business Planning
Special Holiday Promotional Price $37.95 + $8.00 Shipping and Handling
People of all ages and background are anxious to enter the marketplace with good products and services. They want to bring new ideas and dreams to the marketplace to serve customers, create jobs and to build personal wealth.
The key to starting and developing a successful business is to have a well- documented business plan.
Nothing is more important!
Rudison's Enterprises specializes in helping business owners write well developed business plans focusing on fundamentals, which are necessary for growth and success. We take the business owner through a step-by-step process based on proven methodology resulting in an outstanding end product.
We have prepared a "Practical Sense Business Planning" instruction manual to equip business owners with information for generating and writing powerful business plans, grants and proposals.  Also included are instructions for handling milestones, business growth, SWOT (strengths, weaknesses, opportunities and treats) analysis and successful marketing strategies.  Information for start-up businesses and ongoing enterprises is included.
Case Study Method
We have included a complete business plan prepared for Brittany Doe Samples, a business owner of Beautification Professionals, Inc., a fictitious company written especially for this training. 
You will see how Brittany's dilemma unfolds after she is awarded a significant cleaning contract granting her an additional 600,000 square feet of office space to clean in 12 huge commercial and industrial buildings.  After six years in business she realizes with added work she would have to hire eight additional crews, a milestone she had not planned for.  
Throughout the manuscript, we will see how Brittany operated her business and review some of the pitfalls and obstacles she faced prior to developing her business plan. The bottom line: The plan used in this training was actually approved by a bank.
The principles used in our Guidelines for Developing an Effective Business Plan apply to all businesses, providing products and/or services, retail, office based or delivery based.
Workshops and seminar group rates and discounts are available.  Watch for our upcoming Boot Camp, packed with a wealth of information and keynote speakers who are experts in their fields.